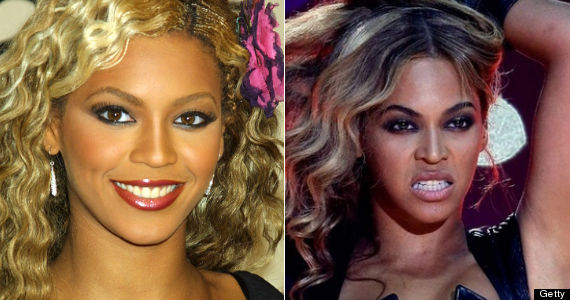 But Recycles performance...
I know I will be accused of throwing mad shade because I am the only person alive that thinks that Beyonce is unorginal and does the same thing over and over, yet is called "entertainment". Sure booty popping in a corset, lights flashing with an industrial wind machine blowing her lace front is mindless fun, but really is that something we haven't seen from her a thousand times?
What may be new is her nose...surgeons have speculated that Mrs. Joe Camel has had a rhinoplasty. Specifically, her nose narrowed and tip refined. I guess we can add the nose to the fake hair and the skin bleaching, oh, but she is "creole", which means something in the Beyonce school of non thought and non genetics. Maybe it was simply heavy duty contouring from the Drag Race reject that did her makeup, who knows. This isn't the first time that Beyonce has basically used a putty knife to spackle on her paint by numbers makeup.
Of course, an article from People, US Weekly or some other celebrity butt kissing publication will have her quoted as saying that she loves her body and she is in comfortable in her own skin. Too bad she isn't as comfortable in her production and songwriting skills, otherwise she would stay off Myspace and Youtube stealing other peoples entire shows. It could be worse, she could fake a pregnancy for attention, or display gross hypocrisy by campaigning and "penning" love letters to The Obama's and their Let's Move program, while taking a $50 million check from Pepsi. What's that? She did those things? Oh well... At least she comes up with clever and witty names for her shows like her upcoming Mrs. Carter tour. Wait...where have I heard that name before? That's her married name?! That's as creative as Nicki Minaj naming every album Pink Friday. If it ain't about hot pants, its a complex, concept isn't it? The last horse really needs to try to make it to the finish line instead of her chasing her tail.