Psycho Barbie
Nicki Minaj's success as a so called rapper amazes me, it really does. How she can be called a rapper simply by uttering,
"Yo, Man"
, drug references or the right expletives in the right places with the right tonal inflections must be the new qualifications.
The great pretender or as I like to call her,
The Mighty Morphing Power Ranger
, brought Foxy Brown on stage in New York City and called her
"one of my biggest influences in the game."
Chi Chi Chia
Foxy joined Nicki Minaj about an hour into her Tuesday night set at Roseland Ballroom, and she wasted no time telling her fellow Trinidad native that she was
"ahead of her time"
when she dropped her third solo album, 2001's Broken Silence. I wasn't even aware there was an album from the Fox/ phone chucker.
(That's code for flop, been a long time since Chyna Doll)
. "
I really wanna thank you for being one of my biggest influences in the game,"
Nicki said onstage, later admitting that the moment was equally special for her and Foxy.
"I never really told Foxy how much she has influenced me and how much she changed my life, and you've gotta tell people that when they're alive to even be able to take the compliment, instead of paying tribute to them when they're no longer here,"
Nicki explained, in a very honest moment.
"I never really knew how she felt about me — in the industry, with women, you kinda just tread lightly — and I'm glad I was able to finally come out and say: 'You were the most influential female rapper to me.' "
So, let's get real here, Black Gaga, your biggest influence is Kim, you are a little clone of her. Anyone over the age of 20 knows you are a recycled copy of Kim minus the lyrical skills. Secondly, Foxy is the most influential female rapper? Are you kidding me? Foxy was cool and all, but aren't you forgetting some actual Femcee's that really should've made your list of influences, you being from New York and all...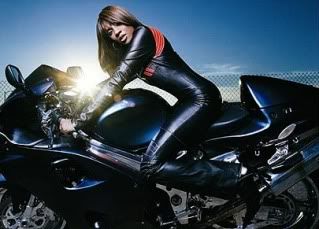 MC Lyte is hands down the best female rapper that should've influenced you. With gems like
"I Cram to Understand U (Sam)"
and
"10% Dis"
from her 1988 debut,
Lyte As a Rock,
MC Lyte changed hip-hop's perception of femcees without changing her outfit. Instead, she cloaked herself in dignity and integrity. And did I mention that she could run circles around many of her male counterparts with her take-your-hats-off wordplay? Lyte's originality, smooth flow, substance-packed content, and impeccable delivery, make her the unquestionable queen of rap music. What am I saying, a person who repeats
"stupid hoe"
over and over, with interchangeable Muppet color wigs, couldn't care less about substance, flow, delivery or content. You just want to get your eagle on in some hot pants.
What about Eve?
(Before that gangster lovin crap)
, before she went Hollywood. Eve was one of the best writers and lyricists around. Her first album stayed in my CD player for at least 3 months.
Queen Latifah?! She didn't make the hot list either did she? Not sexy enough? Maybe her hats in the 90's were to distracting. I would think the fact that she has endorsements would be right up your ally. Cover girl, a jazz album, a perfume line, voice overs in cartoon movies about dinosaurs. The only difference is, she is a real rapper with cross over appeal with no gimmicks, fake exorcisms, crazy clothes, wigs, insane fans, and a flow that is not akin to a seizure or a retarded five year old.
Lauryn Hill...Before the ganja, mental illness and Rohan Marley took her down the path to destruction, as one-third of 90s super group, Fugees, L'Boogie quickly established herself as the focal point of the crew. By seamlessly blending jaw-dropping lyricism with social commentary, she helped make
The Score
the magnum opus of Fugees' catalog and, more importantly, a certified hip-hop classic. I can assure you dear heart, Pink Friday or your latest candy coated turd Roman Reloaded will never be a classic in any form.
On Miseducation, Lauryn unleashed the best fusion of hip-hop and R&B of the last decade. Her stellar songwriting flourished from song to song, whether grappling with spirituality
("Final Hour," "Forgive Them, Father")
or stroking sexuality without exploiting it
("Nothing Even Matters")
. Like Lyte and Latifah before her, Lauryn shines without drawing unnecessary attention to her sexual ambiance. That's how you straddle genres. Instead Nicki Minaj clumsily has a techno dance song with auto tuned vocals, with all emotion erased, then vomiting in a so called rap
"song"
with pointless, idiotic lyrics.
There are other artists I could mention, Salt & Pepa, Lady of Rage, Yo Yo, Rah Digga, Dah Brat, and so many more. Nicki should focus more on being an actual legend of rap than a person with a shirt that says
"this add here"
. At the induction at the Rock and Roll Hall of Fame, Lyte will be sitting on a seat being honored, while Lil Kim sits in a cold room trying to keep her face from melting off. You will be sitting at Kim's right hand with botched surgery, stupid wigs, and an hyper inflated ass.
Booty, Booty, Booty, Rocking Every Where...
This is further proof that this character, which ever one decides to show up for the day, has no knowledge of anything other than the end of her bell pepper nose, except for getting money and selling herself to the highest bidder with the wackest music next to Soulja Boy and this new cat Kirko Bangz who is a dumber version of Drake. If that can be possible...
All you are good for Ms. Minaj, is marketing to lowest common denominator with the emphasis on marketing.
"Hit up Hot Topic, Nicki Minaj hoodies / I'm a Brand bitch I'm a BRAND."
- "I Am Your Leader". Words straight out of your perfectly veneered mouth. Here is more Minaj lyrical phuckery:
"Starships were meant to fly."
- "Starships" (Talent for stating the obvious...)
"I didn't know that bad could look so good / You are the type of bad that feels so good."
- "Beautiful Sinner" (But your type of bad doesn't make me feel good. I got a copy of your album free and I felt I paid too much).
"This is a sickening joke that you play with my emotions / And so I pray you burn in hell and you never find the ocean!"
- "Fire Burns" (Your rap career is a sickening joke, and every accolade makes real rap fans die a small death inside.)
"Ice my wrist-es then I piss on b-----s / You could suck my diznick, if you take these jizzes."
- "Stupid Hoe"
Glad That Auto Tune Was Updated

"Yes my name is Roman, last name is Zolanski / But no relation to Roman Polanski."
- "Stupid Hoe" (If I had a choice between being in prison for child porn or listening to this song, I would take the prison sentence).
"Is this how Marilyn Monroe felt? (felt felt felt) / Must be how Marilyn Monroe felt (felt felt felt)"
- "Marilyn Monroe" (This is just lazy as hell, on the level of Rihanna or Katy Perry).
"Bring the bill, Ri-ri-ri-ri-ring the bill / Br-bri-bri-bri-bring the bill, Bri-bri-bring the bill"
- "Automatic" (I need change back)
And the No. 1 Hit in the Hall of Lame:
You a stupid ho, you a you a stupid ho / You a stupid ho, you a you a stupid ho / You a stupid ho, you a you a stupid ho / You a stupid ho, you a you a stupid ho / You a stupid ho, you a you a stupid ho / You a stupid ho, you a you a stupid ho / You a stupid ho, you a you a stupid ho / You a stupid ho, you a you a stupid ho / You a stupid ho, you a you a stupid ho / You a stupid ho, you a you a stupid ho."
- "Stupid Hoe"
Darling Nicki, Grats on tricking people on your lyrical skills, and building up your brand on your gargantuan ass, but you need to stick to being a feature. Actually, you need to just confess that you don't really know who or what you are talking about, you are a ghost, or alien and one of the worst
"rappers"
alive.