It's only been 41 Days of Magic...
And They Thought We Wouldn't Last?
T

he drama continued for ex-

Patriot Chad Johnson

yesterday as his wife of 41 days,

Evelyn Lozada

, filed for divorce, publicly urged him to

"seek help,"

and the wide receiver formerly known as

Ochocinco

issued a public

mea culpa

for his domestic violence arrest. I think that she should follow her own advice and take up a permanent residence at the nearest mental hospital if she thought that a self professed philanderer would ever remain faithful. Go ahead Ev, throw him under the bus, you are blameless and did nothing wrong.
"I would like to apologize to everyone for the recent events that have occurred,"
Johnson said in a statement on his
OchoCinco News Network
.
"I would like to wish Evelyn well and will never say anything bad about her because I truly love her to death.
Other than the made up fact that she attacked you, but you won't say anything else...
"I will continue to be positive and train hard for another opportunity in the NFL,
" he continued.
"To all the fans and supporters I have disappointed, you have my sincerest apologies. I will stay positive and get through this tough period in my life."
You will never get another opportunity in the NFL, this was your last chance. Miami wanted to see if you could still play and if you could stop being a problem. All they needed was one, just one reason to get rid of the moron that legally changed his name to his jersey number. Trust me, douchebag, it's over. In my Chris Tucker voice,
"You got to be a stupid muthaf@cka to get fired on your day off."
Chad, the
frog
Prince Charming that every girl should run screaming from, has extreme fidelity problems, so much so that this was a plot point on Basketball Jumpoff's. Check out the video.
So, taking Ev at her word,which isn't worth much, bought condoms and left the receipt in the Maserati that they own for an alleged affair that he was just too lazy to cover up. Ev, with her volatile temper, confronted Chad and he head butted her. I just want to say, that athletes have to be the worlds dumbest cheaters. He probably charged the condoms on his credit card and left the receipt in his car. Who the hell does that? Someone that has gotten hit too many times on the football field. Groupies want these diseased penises inside them for a handbag or some spiked red bottom shoes, but at the end of the day, these guys are idiots and haven't learned the concept of
"delete all".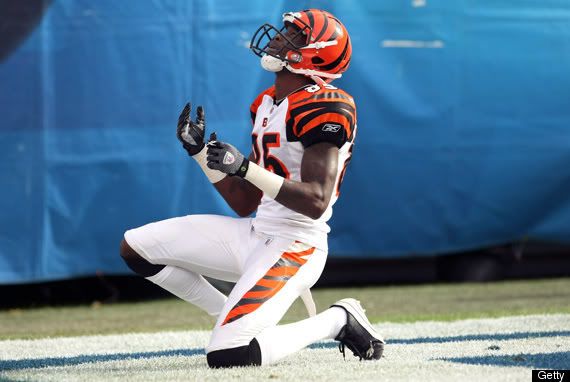 Why Do I Love the Hoes?
Chad told authorities that

Lozada

head butted him...I see...Evelyn, head butted Chad? This dude in the green elf shoes? Yeah, right...no body believed that, especially the Miami Dolphins, who canceled his contract and VH1 cancelled the soon to be embarrassing

Ev and Ocho show

. This is the channel that aired Flavor of Love and gave

spinoff's

to the random whores he slept with, but they drew a line with Ev and

Ocho

, this somehow was a bottom for the cable channel.
Ladies Night, Oh What a Night
"Due to the unfortunate events over the weekend and the seriousness of the allegations, VH1 is pulling the series 'Ev and Ocho' from its schedule and has no current plans of airing it,"
the cable station said in a statement.
Evelyn released her own statement via her publicist announcing her divorce:
"I am deeply disappointed that Chad has failed to take responsibility for his actions and made false accusations against me,"

she goes on to say,
"It is my sincere hope that he seeks the help he needs to overcome his troubles. Domestic violence is not okay and hopefully my taking a stand will help encourage other women to break their silence as well."
Really Ev? Pot meet kettle. Says the chick that threw glass bottles, shoes, coined the term
"non motherfucking factor"
to provoke someone. How about the fact that you slept with a cast mates ex-husband?
I sincerely hope you aren't going to try to be the martyr here or some sort of Domestic Violence spokes woman because it won't work. You have a history of violent outbursts who will no doubt pimp the situation for cash, right now, there is a camera crew following you around. It worked for Rihanna didn't it? But, you aren't as cute. They are friends and the situations are so similar. How much do you want to bet this will be the topic of the first episode of Basketball Jumpoff's? Can't you see Shaunie looking all concerned and shocked, but not really involved, Tammi is ready to ride out and shoot Chad, Jen will make a surprise appearance and Ev and Jen will hug. They will cry and say to each other that they are so sorry they hurt each other, mascara will run, weave will be out of place, cleavage will be shining, Ev will act as if she is about to die, but then she will act like the Godfather and start acting like she is hard or a thug and put on her sunglasses. They will mention something about being in
"the circle"
, go out for drinks, and show clips for arguments for the next weeks episode.
I thought where you came from Ev, you handle the situation yourself and don't call the police? I mean you act like a member of the Gambino family, maybe you should be on mob wives instead of Basketball Wives. What you should've done, since you are so hard and love to fight, is wait till he went to sleep, did
"something"
and Chad would've either woken up in the
"upper room"
or the ICU.
Evelyn is a savage beast wearing Louboutins and Herve Leger dresses and Chad Ochocinco is a stupid coon whose innate slave instinct kicked in, which allowed him to run really fast. Karma caught up with these two pit bull's in red bottoms with a strong fear of poverty. Chad did this to himself with his constant addiction for attention,
(Jen said that by the way)
, and by picking a woman with a predisposition for violence. Bravo!
This marriage, if you want to call it that, lasted just a pathetic 41 days. That beats Kim Kardashian's laughable 72 day PR stunt. This yields the question, what is so precious about marriage that gays can't get in on? Us heterosexuals have made a mockery of it, just as Chad and Evelyn, Kim and Chris and many many many others have blatantly displayed. Marriage is no more sacred than a drunken bunny hop, unless the two people engaged in the marriage believe it's sacred. Marriage is paperwork, and legal documentation, no matter what your Bibles, politicians or pastors say. What is there to protect? The family was broken down long before the deviant fags came to pervert your children and no, the answer is not prayer in school. No one should make windows into mens souls, because that window goes both ways. Without a legal license, your pastors words are null and void. He might as well chant the latest Nicki Minaj monstrosity.
Otherwise, we get glaring reminders like this...
Team Loser and Gold Digger