The dude that looks like a chick is calling out the actual chick? Bye girl bye!
Next Drag Superstar
Of course these two rodeo clowns beef the way all celebrities feud, on twitter. It all started on a quiet Tuesday morning. As we all know, Lil' Kim had recently unveiled quite a -- shall we say -- dramatic new look. Let's face it, Kim has looked like a blacken Chinese woman for quite some time and her plastic surgeon should be sued. Just about everyone was confused by the rapper's alleged surgical enhancements and many were quite critical, but perhaps none have been as vocal or direct as talk-show host Wendy Williams. Wendy took to twitter to let the world know how she feels...now remember, this is the same drag queen that cried crocodile tears about Whitney's death, after she made a career of provoking her.
."Kim, in my mind, I know your goal was always to look like La Toya Jackson. You've out-La Toya'd La Toya in your new look, and don't blame Photoshopping. Blame your plastic surgeon, girl."
While there is truth to this statement, I am still not sure that Wendy is a biological woman and frankly nothing about this creature is remotely attractive. She sits in her seat like a bloated bump, yapping about her shoes and wigs, trying desperately to invoke Mariah Carey for some reason. Mariah on her worst day doesn't look or sound like a man. I digress...
Kim not to mince words, responded in kind with this...
Photo Shop or Not, This Face is a Fail
I Know Kim looks like Mulan right now, but Wendy is not really a 10 either. More like half a 10, then subtract 3 then we have the number that fits Wendy. I don't know who lied to her. However, I thought Kim was Big's jump off and he married Faith Evans. Kim was so obsessed with Big she did a terrible album called the
"Notorious KIM"
. Did I remember that wrong? Lil Kimchee needs to take a seat and stop pretending that she is some woman of virtue and that she wasn't
"the mistress"
or truthfully,
"the home wrecking whore".
If I'm wrong Kimchee, produce wedding photos. Were you in anyway responsible for pimping out Big's legacy like Puff and Faith? No? Then you didn't count my dear.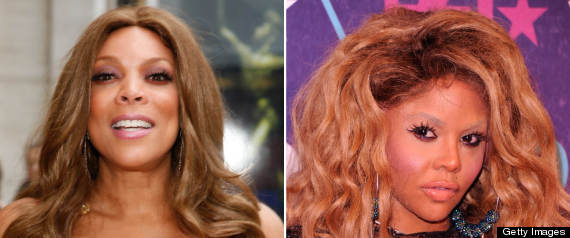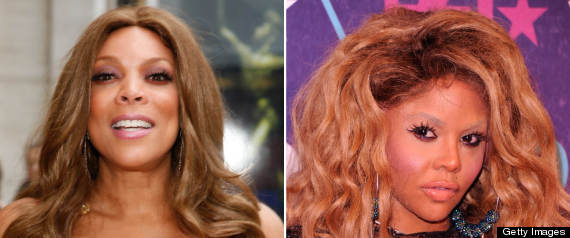 Sashay Away!
This so called feud between two mean
girls
old women,
(they are both over 40)
, who have made their appearances match what is on the inside and now we can all see Kim-sun Minaj Sr. and the transgendered trash show host for what they are. This just proves women stay catty, illogical, boring, stupid, and just plain useless until the point of death.
Lion King!
Wendy needs to worry about paying those Guatemalan sweat shop slave laborers she owes for those cheap shoes that was she was trying to mass produce that will never hit the market, instead of running her mouth. Kim needs to get someone to write rhymes for her to resurrect her laughable career. It works for Nicki, Rihanna, Kesha, Britney, Usher, Beyonce, Justin Timberlake, Drake, 2 Chainz, pretty much everyone...What Kim should be concerned with is that day they induct MC Lyte, Latifah or Yo Yo in the Rock and Roll Hall of Fame, they will be sitting in the balcony looking down on the stage. Kim will be sitting in a cold room trying to keep her face from melting off.