Cry for the breeding cartoon character...
Michael Jackson Resurrected
Now, let me preface this so called story, I believe that this is a lie and from the imagination of this moron just to keep her name in the media for attention. Unless I see handwriting samples, DNA, Jesus, Mohammad, Buddha, Krishna and a few angels take the stand the in her defense, I won't believe a word that comes out of that surgically warped mouth.
Worst Mother of The Year Photo
According to the worst mother alive, Nadya Suleman, she was awakened to a smashed car window with an attached note,
"Leave California or you will die."
She is so afraid for the lives of herself and her children but she can't afford the security that she needs.
"I'm terrified,"
Nadya of course tells a reporter. Funny that she can always muster the strength to talk to the media... She goes on to say,
"When I heard the strange noises outside the house, I went back to sleep and brushed them off. But around 9:00 a.m., my neighbors told me my car window had been broken and a handwritten note left behind. I burst into tears. This is not the first time this has happened. I haven't slept for days. I'm like a neighborhood watch in my own neighborhood."
What criminal leaves a handwritten death threat? I know who, Nadya Suleman.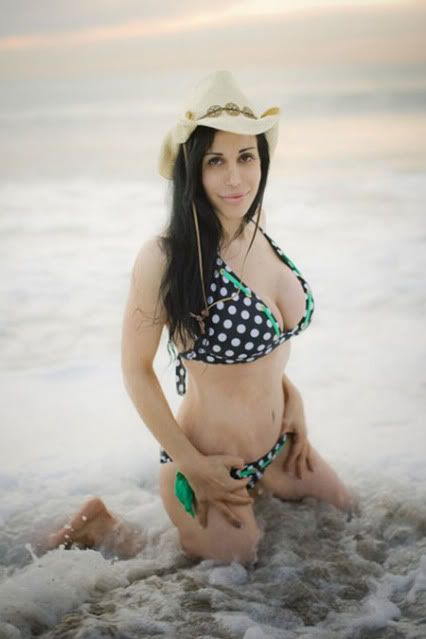 Trying Hard To Be Sexy and Missing The Mark
This piece of stool postulated that this imaginary death threat may be the result of her decision to go on welfare. Really?! Who would know if she hadn't broad casted her so called plight to the world. How is her situation different than the whores on Maury? She made a foolish decision with long term consequences. She somehow paid for busted plastic surgery to look like a failed version of Angelina Jolie with disguises, wigs and bad striped t-shirts. She didn't show the police the big bad death threat, but she showed the media and of course TMZ, I smell roses, i.e. b.s. Why should anyone want to waste any time trying to harm her?
Angelina? Not on My Best Day!
"I hope to be off welfare in a few months. I will do whatever I have to for my kids,"
Nadya says.
"It doesn't make sense for me to get a job now, as every penny I earn will go to childcare. But now I have the extra worry of safety. I can't afford to hire security and I have no one but myself to look after my kids. I'm very, very frightened."
How does that make sense? Getting a job doesn't make sense, therefore I will go on welfare so the government and taxpayers will pay for them? Yet, I will do whatever I have to for my kids, that is everything except work, because that is economically unfeasible because I have to hire security and the only way I can pay them is with the left over ovaries that I have in my uterus. Maybe I can pay them with wishful thinking or maybe Brad Pitt will be confused and think that I am really Angelina Jolie, Joker or Batman and some singing mice will come out of my butt.
Why hasn't CPS removed these kids? They come in when a kid makes too many 911 calls, but when there is more than enough evidence of gross negligence and a deranged, fame whoring mother blatantly profiteering from their kids worse than J.Lo, Beyowulf and any other celeb she wolf parent yet here, nothing happens.
Call the porn producer, get it over with. Plus, she get's SSI on some of these kids because some are disabled, so she is already pimping the system, now she wants more.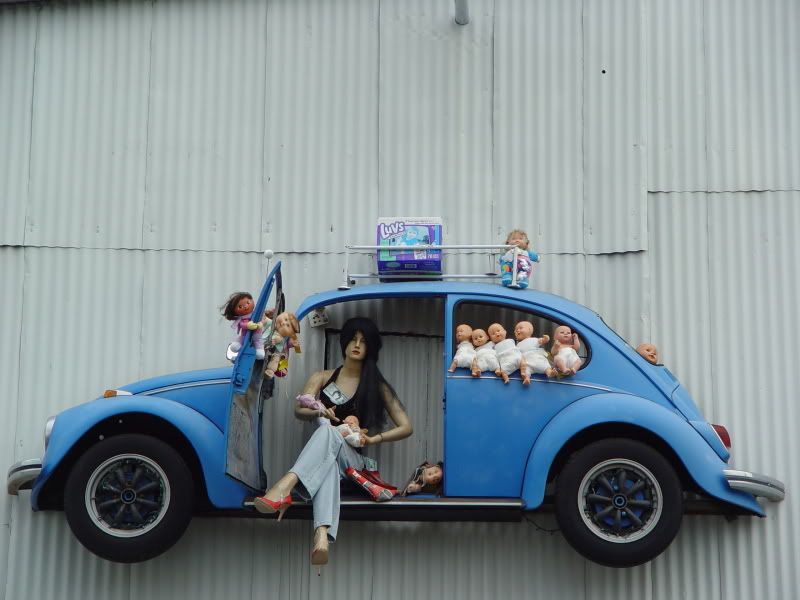 Bozo The Clown
Someone tell her she has a Vag and not a clown car.