The Milks Gone Bad
At her Istanbul concert, Madonna flashed some skin, way too much. While performing her song,
"Human Nature"
, she began stripping away her white shirt, down to her bra, before she flashed the audience a shot of her right nipple. If the majority of her audience weren't already gay, seeing an old breast that looked like a baked chicken might get the job done and erase all sexuality, if not humanity from the crowd.
Look, I'm On a Cross, Shocked Yet?
Here is the thing with Madonna...back in her day, she was
THE
provocateur. Now, not so much. She has had few equals when it came to self promotion and marketing, which is, let's face it, her greatest talent. What she is saying and what she has said pre-marriage and kids is,
my music cannot stand on it's own merit, therefore I must invoke the ghost of Marilyn Monroe, straddle a bed post and blow off the cobwebs on the cone bras and hump either the stage, the mic stand or a drag queen in stiletto's.
This publicity stunt, just like her attempt at calling a French leader a Nazi is a vainglorious attempt at attention without the finesse of her 80 & 90's era publicity stunts. This is a desperate attempt to hold the public attention against the new school of performers that have copied her style and marketing techniques. Flashing a flat boob would've been provocative 20 years ago, but now you have Rihanna instagraming 1,000 topless photos of herself walking down the street or Miley Cyrus running around town flashing side boob without pants. The shock and awe, slut competition is just too fierce and Madonna's reign has been toppled over a decade ago.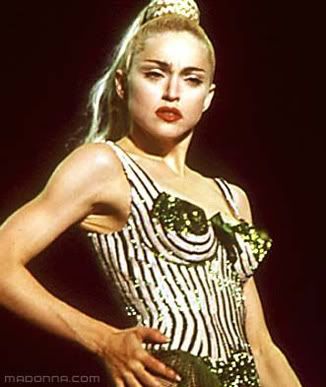 Guess who was blamed for Madonna's tanking album sales? Chris Brown. Ignoring the fact that MDNA is a pile of auto tuned nonsense that even her staunchest supporters can't get behind, she blames Breezy for getting the best songs. What Madge needs to do to maintain relevance is mentor the up and coming artists and offer advice and inspiration instead of pandering to her audience of queens and fag hags. I know everyone says Gaga is a copy of Madonna, but she is the copy that got the sense of humor and talent. We have all seen better nipples on baby bottles.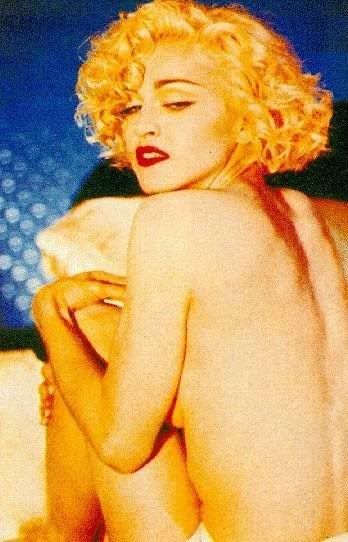 Do You Find me Sexy?!
Madonna, please stop trying to strip for album sales...